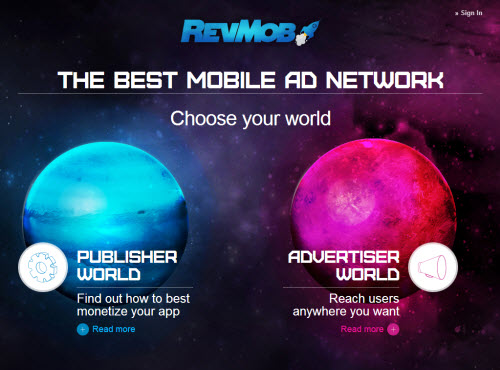 So you've decided to give your app away for free and earn money with embedded ads. That's great—but where do you get ads that will pay off?
It's important to note: your revenue with ad networks will eb and flow. As new networks are built, and old networks get more developers in, revenue will change. What does that mean for you? It means you can never stop testing in order to optimize your ads.
You need to try multiple ad networks to see which fits you best, and continue switching out networks when one isn't working for you anymore. The great news is you can implement many of these SDKs at once and simply turn them off and on when you want to use them, which makes testing easy!
Here, we'll take a look at the best ad networks for apps, letting you know how they work and how you can use them to profit from your free ad. Sign-up now as they're free to use:
iAds – https://developer.apple.com/iad/
Intended for iPhone and iPad apps, iAds makes it super-easy to run ads. The development is integrated with the iOS, so there's no separate SDK to install—and they do all the work for you. You just sit back and collect 70% of the revenue.
Tapjoy – http://developers.tapjoy.com/
This company can double as a distributor and monetizor. They offer both integrated banner ads and full-screen interstitial ads that highlight a single advertiser and bring in more revenue—because big companies bid heavy on the full screens.
RevMob – https://www.revmob.com
RevMob is the worldwide leading ad network when it comes to mobile traffic monetization. The company delivers eCPMs well above the average of the industry with a simple SDK implementation.
Applovin – https://www.applovin.com/
They've recently expanded their platform and more developers are jumping on board. Aside from targeted ad campaigns, Applovin provides 24/7 support as well as revenue analytics tools and free cross-promotion.
Learn how to make the most out of your freemium and paid apps with our day-by-day app business plan:
Download the FREE report now —> 8 Day App Business Plan
Playhaven – http://www.playhaven.com/
Playhaven provides a customizable ad experience for mobile games. Identify, target and acquire the right players for your games with PlayHaven's Ad Network and free Cross Promotion tools. They also offer virtual good promotions to deliver targeted, relevant promotions designed to maximize revenue.
Jumptap – http://www.jumptap.com
Jumptap's ad-supported earning model boosts earnings with advanced features including ad targeting technology. More than 20,000 mobile app developers place ads inside their apps with Jumptap. App promotion programs with Jumptap drive downloads, increase traffic, improve App Store rankings and boost revenue.
Tapit – http://www.tapit.com
TapIt by Phunware's seamless SDK Integration makes it easy to start engaging and monetizing. Once you are up and running, the real-time reporting system allows you to track earnings and monitor your traffic. Then, their in-house optimization team organizes and formats ad types to utilize every new feature of any mobile device to maximize your clicks and earnings.
MDotM – http://www.mdotm.com/
MDotM offers algorithmic optimization, high eCPMs, direct deals and publisher managers to optimize your traffic to match high performing creative to your audience in a manner consistent with your standards of user experience.
AdMob – http://www.google.com/ads/admob/
Heavy hitter Google uses its search engine power to place highly relevant ads that are more likely to get click-throughs, and therefore revenue. AdMob also offers a service that lets you cross-promote, advertising your app in other apps.
ChartBoost– www.chartboost.com
Chartboost is focused completely on mobile games with more than 5,000 titles currently live in their network.Chartboost gives developers complete control over where their game is promoted and how it is presented to the user, while also providing full transparency into the data and where traffic is coming from. Products Chartboost offers include the aforementioned network of games for developers to promote their titles and drive installs, Chartboost gives their partners free cross-promotion within their stable of games and has a Direct Deals Marketplace, which allows for developers to connect with one another in a social network-style setting.
Learn how to make the most out of your freemium and paid apps with our day-by-day app business plan:
Download the FREE report now —> 8 Day App Business Plan