A couple months ago, I interviewed AE member, Sophie on her app company, Applause. She got into this business knowing nothing about app development and has continually hit the top charts with her Photo App Empire. Sophie and her business partner, Stephanie, are a great case study to follow because they're the perfect example of moving with the market. Are all of their apps successes? Nope, but they diligently study the market, analyze their data, and keep building their network.
In this follow-up interview, I spoke with the ladies of Applause to show you the progression of app development. I think it's extremely beneficial to be able to watch a case study in action! They've come along way, but still have a ton of plans in the works that I think you will all be able to learn a lot from. Make sure to read below for an extremely important update from Sophie and Stephanie.
P.S. Sorry for the demo note! Call Recorder went down.
– Update from Sophie & Stephanie –
After trying their foray at games, they've come to the conclusion that, "Games sucked!" Well, maybe not sucked, but they made no money and took up some valuable time. I think it was a great learning experience for them. There are so many people making money with games right now, that the logical progression would be to try games, right? Not always. Applause are great at Photo & Video, and if anything, I think this has just reinforced their efforts and focus in this genre.
Lesson: Try new things, but don't be discouraged if it doesn't work for you. Focus on what you're good at.
After some constructive feedback from fellow AE members, they tweaked their icon, which caused InstaBlend to shoot up to #7 in Photo & Video. It is now steady between #15-25. Definitely a much needed improvement!
Lesson: Don't underestimate your icon and screenshots. They are some of your most powerful marketing tools.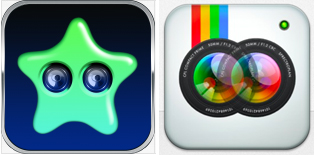 The majority of Instablend users were using the app with Instagram (naturally), so Sophie and Stephanie were able to follow users via #instablend and searching through photos. Through this research, they discovered a popular effect users were stitching together on their own with Instablend. Seeing this demand, they created InstaEyes, an app they never would have thought of on their own, Sophie says. InstaEyes is currently steady at #6 – 8 in Photo & Video, and got all the way to #44 overall. They'll be releasing InstaEyes Zoo and InstaEyes PRO soon.
Lesson: Get to know your users. The more you understand the needs of your users, the easier app ideas will come to you. Build onto this network.

Sophie and Stephanie's understanding of the market and speed of implementation is now earning them a steady $3000 per day in revenue. Congrats guys!