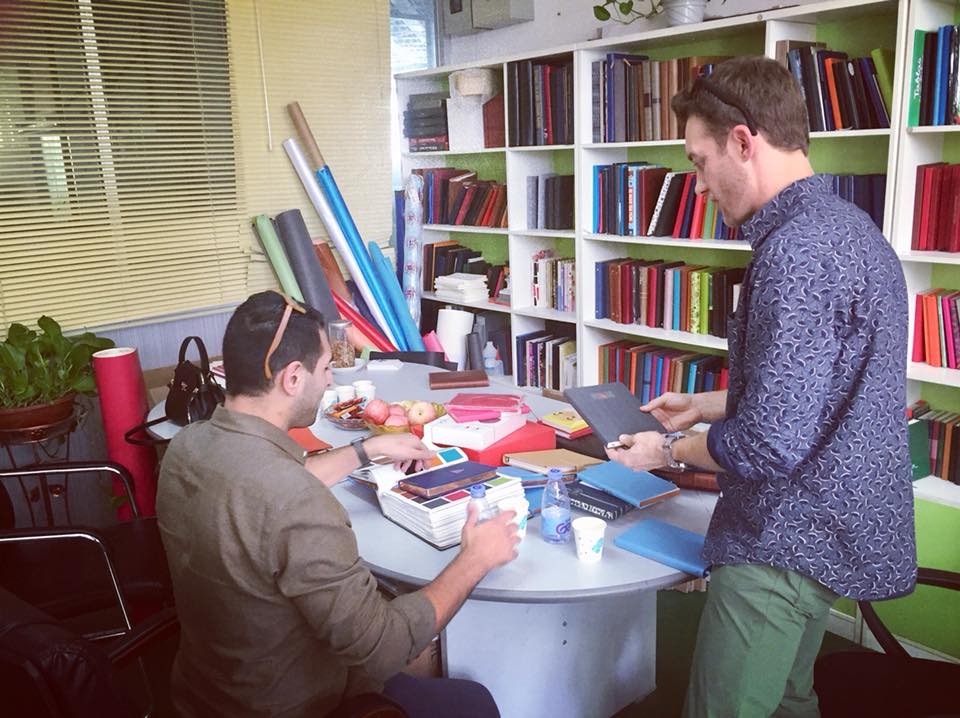 Me with my colleague Arman Assadi, looking at possible cover materials and covers from one of our suppliers in Guangdong, China.
I still remember it all like it was just yesterday…
The stress caused by the 18-hour work days, 7-day weeks of slavery that I called "my life"…
The feelings of dread, guilt and racking self-doubts… wondering how long I'd be able to keep myself together.
Even the successes I attained felt empty, because my work was all I had.
I didn't have much to show for in terms of relationships, friendships, family, and time to myself.
Sure, I was healthy and young, but I was driving myself into the ground.
"I'm building a real business here. I just gotta hustle and it'll all come together in the end," was the lie I sold to myself.
And then it happened.
In 2008, the housing bubble burst in the US and so did my so-called "real business". All I could do was watch as my entire life's savings went down the drain.
Soon after, I got into a car accident and had a near-death experience that almost cost me my left arm.
Broke, depressed, desperate and over $100,000 in debt, I borrowed $1800 from my stepfather to develop my first mobile app, Fingerprint Security.
Three months later, I launched it. Within the first month of its launch, I made $12,000.
Fast forward 10 years and I've helped co-found 3 app businesses, launched well over 50 apps that resulted to 150+ million app downloads… and collected millions of dollars in revenue.
Many people ask me what exactly I did to create those results.
Well today I want to answer that question by giving you a sneak peek into what I've been working hard at for the past year…
This is my passion project, my legacy business: Project Evo!
I'm going to show you what I do in Project Evo, how I do it, and why – so that you too can model what I'm doing and replicate my results.
If you're looking to start a business venture, these are my top tips on how to ensure your success.
But first, a brief background of Project Evo…
The product I created is called Evo Planner. It has a physical planner component and a digital app component. It's the world's first personalized planner custom-designed to work with how your brain is wired to process and organize information.
Through its clever application of emerging technology like Augmented Reality (AR) and Artificial Intelligence, it learns how you work and how you behave over time, and adapts to YOU and how your brain works.
It's designed to help you become your best self so you can live your best life: focused, happy, productive and fulfilled.
I'll delve into more details as I share the top things I do to succeed in my business…

#1 Solve a perennial problem.
Before entering any business, approach it in terms of what problems you are solving.
I noticed planners were hot in the marketplace, sure. But ultimately what's really going on is that more and more people are desperately wanting to up their productivity.
The problem is that most people don't know how they make decisions or get things done, or what motivates them. So after using "productivity tools" that are actually ill suited to them, they lose heart and stop trying.
So I designed a system that helps you be more of who you really are, and focus on the right things for YOU based on your brain type, personality, behavioral tendencies, etc.
Wanna know your brain type? We created a quiz that assesses exactly that.
After you take the quiz, you can get a planner designed specifically for your brain type and a mobile app that gamifies the whole experience. These help you focus on the right things and get motivated to get things done in ways that feel natural to you.
For example, I'm the Explorer brain type, so one of the main things to kick my rear into gear is for Evo Planner to ask me, "Hey Chad, how can you make today FUN?"
Ask yourself how you can apply the same principles to your business.
As technology evolves and as new problems or different nuances to the problem emerge, adapt your solutions accordingly. That's how your business remains relevant.

#2 Take advantage of patterns that are trending upwards.
"What are you working on right now, Chad?"
That was the guy from Apple on the phone.
I knew what they wanted to hear.
They want apps that promote their new hardware and make use of their latest tech.
So I told him the magic words: AR, QR, VR, AI, iOS 11…
I was barely finished explaining how I've integrated those emerging technologies into my new app when Apple agreed to give it a special promotion on the App Store.
Boooom!
That happened because when I first started this project, I asked myself how I could take advantage of patterns that are on the rise and emerging technology like AR and VR.
That's how I got to include the use of QR codes in my product.
That's also what led me to build an AR character for my app – one that's going to pop out and interact with the user, which is designed to drive engagement up.
So ask yourself the same question: what trending patterns do you see, and how could you take advantage of them?

#3 Model what's already proven to work – just make your version a bit better.
The business blueprint I have been using for a decade hasn't really changed much.
There is really no need to reinvent the wheel.
While I'm not fully discounting the "first mover advantage", from what I've seen, it's the "improvers" who eventually win in this game in the long run, not the pioneers.
Because the pioneers are the ones who pay the high price of "inventing the wheel", of expensive experimentation, of resource-intensive detours and trial and errors.
That's why "emulate, don't innovate!" has been one of my classic business battle cries.
As I create the app component of the Evo Planner, I keep studying what's working in the marketplace.
I look at successful apps.
I study what makes them successful.
I read the reviews and take notes of the users' frustrations, likes and dislikes.
I then take the things that work and combine them to work for me.
My research process is never ending. I'm constantly observing what's happening in the marketplace. When we launch my app, I'll be ahead of the curve.
How are you doing that in your own business?

#4 Leverage existing, big marketplaces.
When Apple created the App Store, I FINALLY understood the power of leveraging a marketplace with technology and worldwide distribution.
It was the "missing piece" I was lacking.
I have been leveraging Apple's platform for almost 9 years now, creating the life I had always wanted by building freedom lifestyle businesses.
And now I am going to do exactly the same principle with Project Evo, by leveraging the power of Amazon.
When Amazon started really taking off about 5 years ago I started hearing about all of these success stories of people just like me capitalizing on leveraging another incredible platform and marketplace.
I dipped my toe in, tested it out…
And I was hooked!
I am so convinced that I'm now leveraging the digital world with Apple and the physical world with Amazon in combination to completely crush it!
That's why I consider Project Evo the most exciting project I have ever done.
It's my legacy and I can't wait to share it with millions of people!
It wouldn't be possible to do this at the scale we plan to do it if it wasn't leveraging the incredible marketplace of Amazon.
Amazon is blowing up even more than ever. If you're like me, you have daily Amazon boxes showing up at your front door a lot of the time.
So ask yourself: what existing marketplaces can you leverage?

#5 Create a business that you can scale up quickly and easily.
When picking a business to get into, scalability is important.
If your main "business" right now is one where you're selling your time for money, it means the more customers you have, the more demands it places on you time-wise, energy-wise, and sanity-wise.
In short, the more customers you have, the less freedom you have.
Of course you could hire more people to do the operations, but why not just create a business that allows you to scale quickly and easily, without necessarily putting more strain on your resources as you grow it?
That's the beauty of the app business. And that's why you should only get involved in businesses that you can systematize, automatize, and then scale in a cost-effective way.

#6 Follow the proven blueprint of those who have already done it and helped many others replicate their success.
This is hand-to-heart the easiest and quickest way I know to succeed: follow a proven blueprint.
In fact, if you want to build a real, long-term, highly-profitable business that you could scale effectively, I highly recommend you check out Amazing Selling Machine 8.
I actually learned what I know about e-commerce from my friends Matt & Jason, the creators of Amazing Selling Machine course (there's a good reason why it is now on its 8th edition, with countless success stories of 7 figure companies built from scratch).
The Amazing Selling Machine business model fulfills all the 5 business success tips I laid out here.
You will learn the exact steps and all the tools you need to go from $0 to $100,000 per month on Amazon FAST using a proven, scalable system. (In fact, the program has generated billions of dollars in revenue for ASM members.)
I really believe in this business so to incentivize you even more, if you buy ASM through this link, (and forward your ASM receipt to support@appempire.com) I will give you 6 months of Emergence Entourage membership FREE! (regular price $397/month)
As an Emergence Entourage member you'll get immediate access to ALL of my courses, bi-weekly learning materials about emerging technology and how to profit from them, PLUS a bi-weekly Q&A session where you get to consult with me directly about any app business and freedom lifestyle topic.
But there is a catch.
Access to ASM membership has been CLOSED to the public for the past 6 months…
The membership is open now but you only have until Thursday, October 26 before it closes again.
Get your ASM membership now while you still can >>> https://ki143.isrefer.com/go/video-4/cmureta <<<
Chad
P.S. Ultimately, this is NOT even about the money. That's just one part of it.
It's about freedom. And this is one of the quickest routes to freedom that I know of.
Isn't it about time to write your own freedom story?
Start your journey to freedom here >>> https://ki143.isrefer.com/go/video-4/cmureta <<<