I get a lot of questions about app development costs.  While I can't give you accurate estimates for your projects, I CAN give you some tips to get a ballpark figure.
Here's what most people email me:
"Dear Chad,
I've seen several trends (Photo/Video; Navigation;
Emoji) but I'm having a hard time determining which
apps are technically and economically feasible to develop.
How much would it cost to develop an app in one of these categories?"
Most of us are not tech-savvy (myself included), and can't tell how much time or money is needed to code an app.
However, you can quickly develop a "sixth sense" for determining coding time and development costs.
All you need to do is get quotes from programmers on your ideas.  It won't cost you anything to do this.  Just visit Upwork.com and post a job with a general description of the app you'd like to have developed.  Ask the coders for a flat-fee quote and an estimated time to delivery.
You don't have to reveal specifics or even hire any of the people who send you quotes.  All you're trying to do is get an idea of how much an idea will cost to develop.  (One trick I use is to include the link of another similar app that is currently published in the Store.  This way the developer has a better idea of what you're looking for).
You can do this for any and all of your ideas.  It won't take long before you'll be able to look at an app and say:
"This idea has a high ROI, and I can definitely get it
developed for under $2,000." Or "This idea is going to be super
expensive… Pass, it's too risky."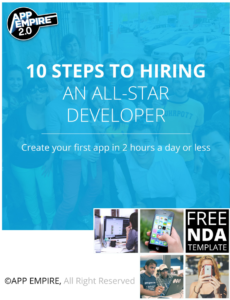 Don't jump into projects without first knowing your costs.  Use these tips and start getting accurate quotes today!
For more strategies and secrets on hiring a developer, download my (Free) ebook 10 Steps To Hiring An All-Star Developer ebook.
Click Here to download the ebook now.
Lets do this!
-Chad